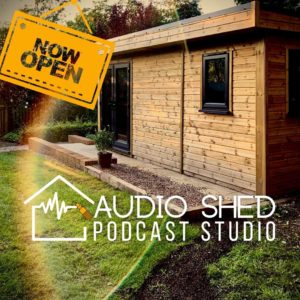 Many thanks for your visit to the Audio Shed Podcast Studio. You are most welcome!
The Audio Shed was brought to life by me, Richard Heathcote, a full time professional voice over artist of some 13+yrs. Since moving to the Warwickshire countryside from South Birmingham at the end of 2019 (thankfully just before the dreaded pandemic – I've never spent so much time in the garden before), I finally had the space, and the ability to build a custom made studio.
In the past, I've mainly used a spare bedroom which was transformed and converted into an acoustically treated space – but with bedrooms being bedrooms, it was always a poky little space that was a little too cramped to be considered 'comfortable'.
Now, having the space to do what I've wanted to do for so long – the garden based studio pod was one of the first things on order. Giving me a customised space for recording, as well as having a bit more separation between work life and home life; even with a 20yard 'commute'! (As commutes go, I have to admit it's a damn good one). But even though the commute is a short one, it does give a brilliant feeling of shutting up shop at the end of the day/at a weekend, and feeling more relaxed, having left the office, as it were.
Within the studio pod lies my recording booth; a fully acoustically treated 'room within a room' style booth, fully clad with acoustic Rockwool™ sound dampening panels, and acoustic pyramid foam. Even the walls of the booth are filled with acoustic Rockwool™ in the cavity; so it blocks out as much exterior sound as possible, creating a nice, 'dead' sound, which is what you want with voiceover recording.
So having had the studio pod built, it then allowed me to fulfil something else I've been wanting to do – create a more customised space for recording podcasts. I podcast myself, and host a show called BrumPod, which I record with my fellow team members from the free business networking group that I founded, Brummies Networking. This show focusses on all small business related issues.
And of course, since I use it for my own podcasting, it was only natural that it'd make sense to get enough audio gear in here allow for other people to record their own podcasts, and have multiple microphones available for up to 4 people to record at the same time.
Therefore, during 'Lockdown 1' in 2020, I bought all the necessary gear and kitted the space out to accommodate up to 4 people, and now offer the space as a record-only facility, where if you're familiar and confident in your audio production skills, you can use Audio Shed as a recording studio and take away your files same day.
Or of course, if you'd prefer us to handle the recording, editing, production and distribution of your podcast, then we can of course handle all that for you as well. Have a look around our various pages via the top menu bar to get more info on all of this.
My original plan was to have all this up and running and ready mid-2020; but with the obvious pandemic, putting the kibosh on certain plans, things were somewhat delayed. But we're here now, and I'm very pleased to declare that the Audio Shed Podcast Studio is now, officially, very much open for business!
I look forward to chatting with you soon to discuss your project.