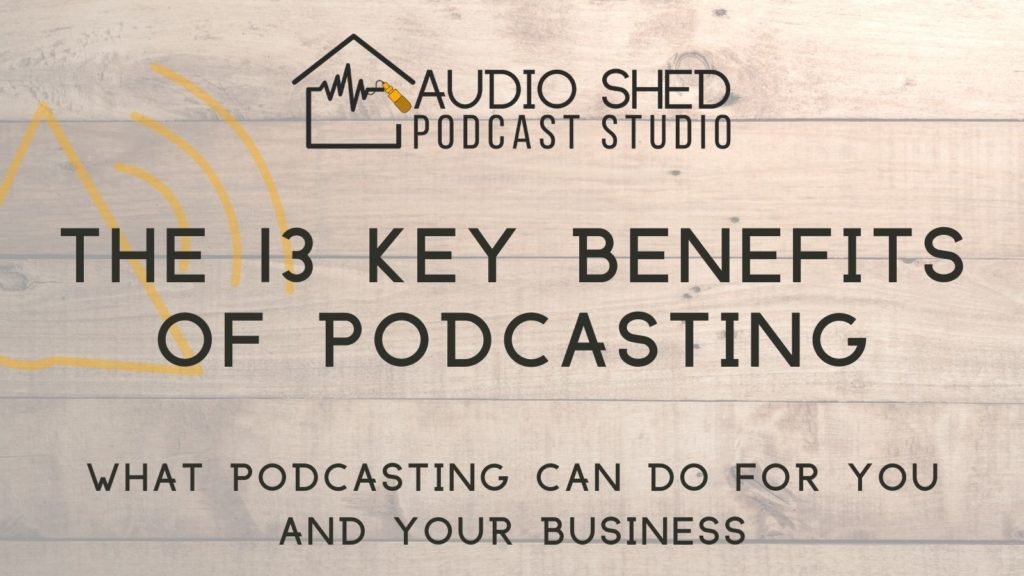 Whether you're brand new to the world of podcasting, or have a good working knowledge of the medium; you might be interested to know some of the key benefits of podcasting that could be of great use to you and your business.
Some of the best reasons to get started in being a podcaster are as follows.
They're cost effective to produce – just needs audio equipment, editing & production knowledge.

They're cost effective (& sometimes free) to distribute/host.

Ease of access for listeners, multiple podcast platforms, multiple OS's, cross-platform, web & mobile.

You can build yourself as an authority in your field.

Create brand awareness.

Potential to monetise (if appropriate).

Opens you up to a whole new and wider audience [as there are different types of learners; readers, listeners, watchers etc].

Engaging format – delivering information in an entertaining, easy listen & digestible way.

Great tool for teaching educational material.

Build better relationships with audience – gain interaction, create audience participation, get them to ask questions & answer on the show.

Helps generate traffic to your website – both via episode & show notes as well as voiced mentions encouraging the call to action.

Improves your communication skills – with practice, you get better at writing & presenting, plus getting to the crux of the issue quicker without the fluff – like a good journalist.

Great alternative to vlogging (video blogging) if being on camera & being 'a YouTuber' isn't your thing.
So as you can see, there are a multitude of reasons why you should start a podcast. If you'd like to discuss the 1st Episode Package Audio Shed offers, then click or tap here for more information.