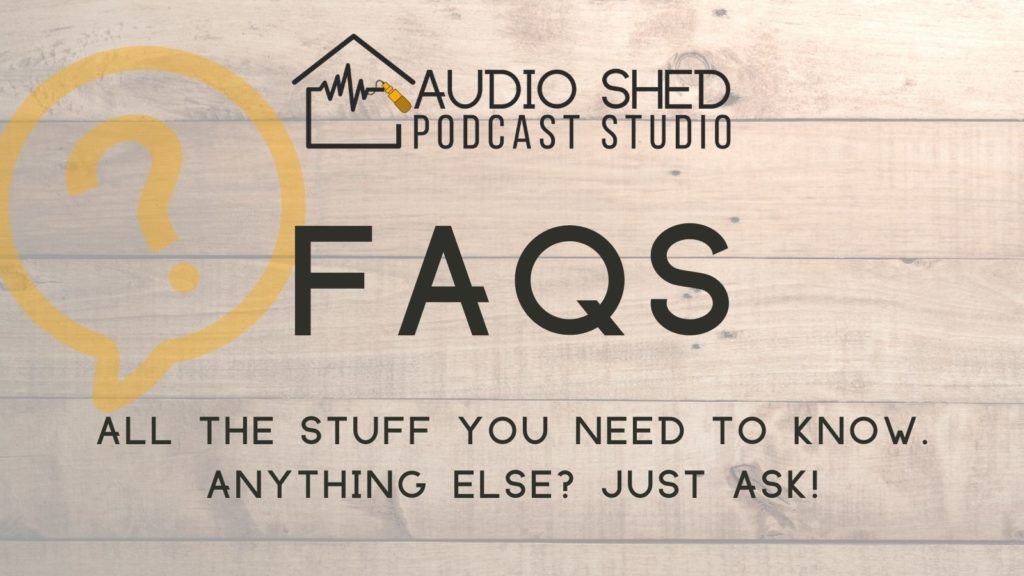 What do I need to bring with me on the day?
You can bring a hard drive for file transfers if desired (see 'how do I get my files from you?' below), or they can be sent via online transfer. Otherwise, just bring your plan for the day, scripting, notes, episode plans etc for you to wax lyrical on your chosen topic during recording.
It's only me on my podcast, can you be an interviewer?
If your show consists of just you alone, you can either be the sole voice, or if you would prefer, I can certainly act as an interviewer/host, posing questions and talking points to you, so it acts more as a question/answer format, no problem at all.
Can you help with idea development, research and scripting?
Certainly – this can be done during pre-production either as part of our 1st Episode Package, or if more in depth help is required, you can always book some further consultation time so you're fully ready pre-launch.
Is there car parking available on site?
Absolutely, there's ample private off-street parking available just 40 paces from the studio.
Are you able to edit, host and publish my episodes for me?
Yes, we can handle the full production and distribution for your podcast if you wish, so you can just concentrate on the content itself.
I'm no good at design, can you create my podcast artwork?
No problem! We can design your artwork with you based on your specs for a fixed price. Just ask for more details.
Can I record multiple episodes in one session?
Absolutely – batch recording makes sense if your content isn't time sensitive, so, depending upon your planned publish frequency, you could record around 2 -4 months worth of content in a single recording session. (E.g. if your episodes are around 30mins long each, you could record say 4 episodes in a 3 or 4 hour booking). Any more than that in one go could fatigue your voice, so although batch-recording is a great idea, don't do too many in one go!
Can I book regular recording time with you? Are there discounts available for block-bookings?
If that's something you'd like to do, then who are we to argue! Yes of course, recording can be ad hoc, or if you wanted to book recording time; say for instance a regular monthly recording session and have it contracted on a 12-month basis, we can do that, and offer a discount. Get in touch for more info & to discuss available options.
How Do I Pay?
Record & Go services can be paid on the day using our card facilities, or for contracted services, and/or full production services, this can be paid on presentation of invoices via BACS/card payments online.
I'm new to the world of podcasting – where do I even start?
If this sounds like you, then you might in the first instance like to check out the 1st Episode Package we have on offer.
What is the turnaround time for an episode?
Usually we can turnaround episodes within 2-3 business days, depending on the level of production required. Record & Go services (where you just take the files away on the day) are instant, as the raw material is sent directly to you via WeTransfer same-day, or transferred onto your hard drive you bring with you.
Do you have an expedited service?
Yes we can turnaround episodes quicker when required if you're up against it – just ask for more info and expedited pricing.
How do I get my files from you?
You can either bring a bus-powered USB hard drive with you on the day (must be Mac compatible) for immediate transfer of raw files (if using our 'Record & Go' service), or produced episodes will be sent to you either via a shared DropBox folder of yours, or sent directly via WeTransfer, online file transfer service.
I'd like to end up doing all my post-production myself ongoing, can you train me how to do this?
Yes absolutely! If you're new to podcasting and editing, we can set up some training sessions to show you how it's all done so you'll ultimately be well-equipped to produce your shows.
Can changes be made to an episode once it's been produced?
This is certainly possible, but will incur additional editing fees for changes of brief etc. (And ideally, you want to ensure your episodes are good to go & green-lit prior to publishing).
How many episodes should I publish per month – and how often do I need to come in to the studio to record?
Ultimately, as many as you wish. We'd generally recommend absolute minimum 1 episode per month, but most podcasts publish around twice a month or weekly. (Some even more frequently than that). But to make things easier you can always batch-record in a single session – see above.
Podcasting can be a significant commitment in order to allow it to build to what you want it to. Some podcasts run as a continuing entity, so your publishing cycle just continues on indefinitely. Some podcasts also run in series, so you could plan to produce them seasonally & have a set number of episodes per season and then break off until you launch the next season. It's very much up to you how you want to schedule and publish your episodes.
Are toilet facilities available?
Although there are no facilities in the studio itself, you are of course more than welcome to use the facilities in the house – located just 20 paces away.
What about food and drink in the studio?
Generally, I'd prefer wherever possible no food in the studio if that's ok, but if you're recording multiple episodes in a session & plan on bringing lunch with you, feel free to make use of the garden and benches etc.
Regards drinks; re-sealable bottles (e.g. water bottles) are totally fine to have in the studio; but if it's ok, we'd prefer no unsealed cups (like takeaway coffee) or bottles just in case of spills, due to the nature of all the high value electronic equipment. Refilling of your water bottles is absolutely available on site. (It's not a super-large studio so there's no 'breakout' areas within the building – there's equipment all over the place!)