The studio is located inside a custom built, acoustically-treated triple glazed garden studio pod, clad with acoustic Rockwool™ insulation, to create a nice quiet environment.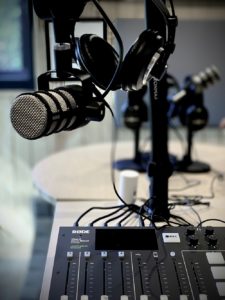 Recording facilities for up to 4 people, plus a 5th participant via remote Skype/phone/VOIP call, plugged into the recording deck. (Perfect for guest interviews).
RØDE Rodecaster Pro recording deck/mixing desk with 4 x RØDE PodMic broadcast quality dynamic microphones.
Separate broadcast quality voiceover booth for recording of professional sounding custom show intro/outro vocals.
And if you require voiceover for your intros/outros etc, the recording sessions will be produced by Richard, a professional voiceover artist.
All accessible via ground floor, with gravel & slab footpath to ensure you don't get muddy feet from the car!