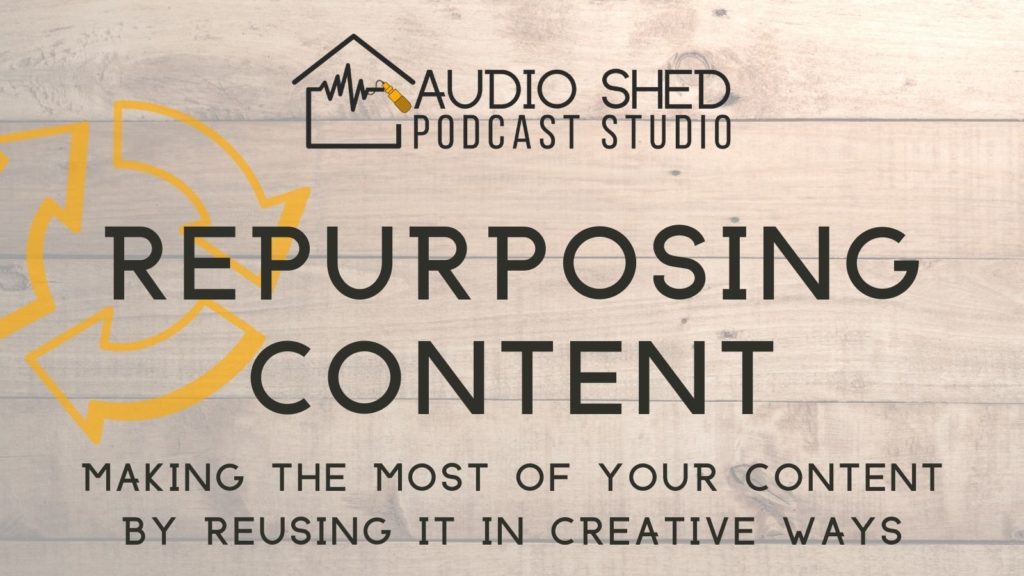 A term you may or may not be familiar with; but in essence, repurposing content is simply the act of re-using and/or re-distributing content into different media.
For instance – say you have a really informative podcast that teaches people lots of useful, actionable advice. Your podcast listeners will of course love you for this – but there will be others who will be missing out who don't listen to podcasts.
So What Can You Do?
One thing to consider is having your podcast episodes transcribed to written form, so that they can then be published as blog posts on your website. It's a very simple way of creating content that already exists elsewhere! So a lot of the hard work in creating blog post content can be alleviated by simple re-distributing (i.e. repurposing) your podcasts to those who prefer to read blog/articles than listen to it in audio form.
How Can It Be Done?
There will be countless people who will be able to do transcription for you, maybe an assistant in your office, or a Virtual Assistant (VA) who could take it on as well as your other admin tasks.
But there's also another pretty low-cost solution out there in the form of Rev.com – they charge a small fee per minute of audio – which is (depending on the price point you go for), either transcribed using Artificial Intelligence (AI) – which is less accurate as it's performed solely by machines. Or they also offer transcription by human, which they guarantee is 99% accurate, again, for a very small per/minute price.
Either way, even if you have to make the odd few tweaks if it's not completely accurate, then it's much easier to edit an existing blog than have to write one from scratch!
Social Snippets
Imagine you have, again, episodes that contain really useful/helpful/entertaining/inspirational content, which also consists of brilliant little nuggets of information – for example, meaningful quotations. Transcribing your episodes means you've got that all in hand too, so all those little wisdom nuggets can be lifted, and then used as part of your social media posts too. Either in purely written form for tweets or LinkedIn posts – or created into great looking graphics and animations.
As an example, out of one 20mins podcast episode, that one recording could give you:
5 audio snippets that can be turned into 'AudioGrams' to post on LinkedIn/social media
2-3 blog posts
5-10 quotes to post on socials in the form of written content/turned into graphics
All of which you could spread out over the course of a couple of weeks! That is the true power of podcasting; giving you an extra avenue of content creation that can be published in a multitude of ways – both to encourage people to listen to the full episode, & to help drive traffic to your website/podcast page/enquiry forms etc.